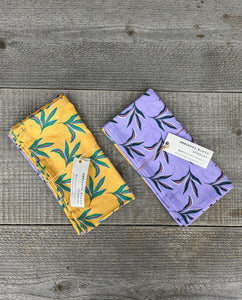 Lively leaves to brighten up any meal!
Small batch napkin set. Each set comes with one yellow leaf and one lilac leaf napkin
Rolled hem
Yellow and Lilac (with blue thread) 16.75" x 16.75" *
---
Made with La Tinta's Urban Jungle Collection of 100% cotton fabric 
Care: Machine wash cold, delicate, tumble dry low. Do not bleach.
(Fabric stiffness will go away after first washing)
*Measurements may differ as each napkin is handmade